Advertise Your Jewellery Online
Jewelry Advertising
Do you have jewllery that you want to sell online. You can post your free ads online to our website at no cost. Simply press the button to post an ad then select your country and location then there you have it. Your ad will be shown for 365 days for FREE.
What Can I Advertise?
You can advertise any type of jewelry from watches, rings, earrings, gold tooths or any hand made jewelry! As long as what you are listing is legal you are welcome to advertise it on our website.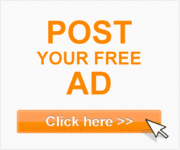 Other Advertising Resources
What Country Can I Advertise In?
Our website is a global classifieds advertising website so you can post your adverts in any country in the world. This is great if you are an international seller!
What Does it Cost to Advertise?
It cost nothing to advertise on our website. We are a free classified advertising website so you can post as much as you like to recieve all the free promotion you can handle.